Works continues on new control
tower at Cobb County Airport
Vertical construction begins this morning for the control tower at the Cobb County Airport. Once completed, the new tower will be nearly twice the height of the existing tower. It is slated for completion in January 2015.

A new customs inspection facility will permit international flights to land at Cobb County Airport. Completion is expected in Summer 2015.






Single-family homes for rent in Cobb
Cobb County homes for rent include single-family homes
and there seems to be plenty available.




Cobb real estate listings
With the economy on the rebound, more and more Cobb homes are for sale. Find Cobb County new homes now.



---
COBB ONLINE

Since 1997, Cobb Online has brought you Cobb County News on a daily basis. Quick and easy Cobb newspaper headlines, real estate and information for those on the go. Marietta newspaper headlines as well.

National Notations /
---
Five problems McDonald's
is facing in the US
---
More bad news
plagues NFL's Michael Sam
---
Venomous threat in
bushel of bananas
---
Significant shift made in
fight against ISIS
---
Russia lashes out against
US with new threat
---
Federal safety board urges
motorists to act
---
Earth on pace
to break big record
---
Bader Ginsburg addresses
her 'notorious' rep
---
Most affordable
city for food is ...
---
Police draw guns on
couple speeding to hospital
---
Paul: White House isn't
being honest about Ebola
---
Red Cross chief warns
Ebola crisis will get worse
---
Traditional cable TV's
days may be numbered
---
Biden's son kicked
from Navy amid drug use
---
A stately mansion for
under $100K and a lot of work
---
Luxury buses a growing
option for business travel
---
What voters won't
forgive President Obama for
---
Ebola crisis reveals
disparities at U.S. hospitals
---
Shooting range refuses
to serve Muslims
---
The 10 states with
the worst quality of life
---
Why are Republican governors
in trouble?
---
One month in, Ukraine truce
exists in name only
---
Poll: Americans fear
government can't protect them
---
U.S. ends decades
long Vietnam arms ban
---
Police Say Accused Cop
Killer Is Making Mistakes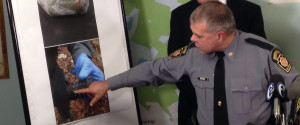 ---